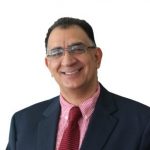 FRANZCOG, FRCOG, DRCOG Gynaecologist & Obstetrician
Dr Moemen Morris
Dr Morris is a graduate of Elminia University & Hospical (Egypt 1989) and has over 25 years experience in Obstetrics & Gynaecology.
In 2004 Dr Morris worked as a Senior Registrar in Nambour General Hospital and Royal Brisbane and Women's Hospital until he was admitted to RANZCOG in 2007.
Dr Morris's consulting suite is conveniently located adjacent to Peninsula Private Hospital which allows Dr Morris to provide a convenient all round service to his patients. Dr Morris prides himself on his attention to detail, consideration for sensitive women's issues and genuinely wants to ensure that women can lead a healthy and happy life without complications. Dr Morris also consults at North Lakes Specialist Centre.
Dr Morris has invested his extensive experience in treating women with chronic pelvic pains and endometriosis in starting a dedicated endometriosis clinic affiliated to his own rooms, and thought that clinic patient will have more focused care toward the troublesome Endometriosis disease, patients will be expected to receive all modern options available for treatment of Endometriosis either pharmacological or surgical.